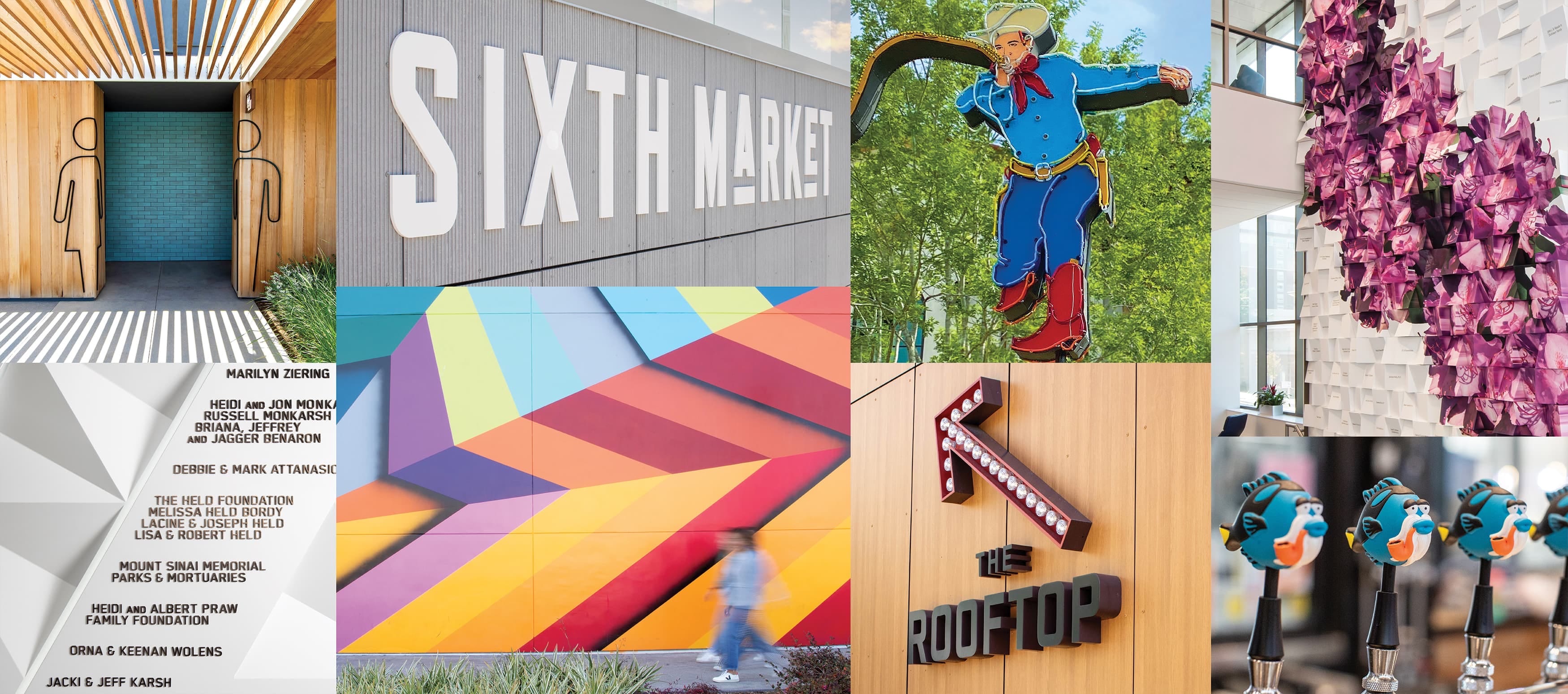 Environmental
Graphic Design Awards.
Excellence in all that we create
For over 25 years, RSM Design's collaborations have embraced diversity, ranging from visoning and branding, to wayfinding and placemaking. We have purposefully engaged in unique and varied projects to challenge our team, continuously creating innovative and award winning solutions. The recognition we've received underscores the importance of quality design in creating engaging, emotional, and memorable places.
2022
The Farm · Allen, Tx: Dallas Business Journal Best Mixed Use Real Estate Deal in North Texas

Rise Park · Irvine, CA: AIA OC Design Awards Framework for Design Excellence - Design for Integration Recognition

Kanawha County Public Library · Charleston, WV: Creative Communication Awards, Winner in Environmental Graphics / Functional Typography

Kanawha County Public Library · Charleston, WV: IDA Awards, Silver in Environmental Graphics

The BAR Center at the Beach · Venice, CA: IDA Awards, Silver in Environmental Graphics

UC San Diego Dining Hall · San Diego, CA: Creative Communication Awards, Winner in Environmental Graphics / Functional Typography

Glendale Community College · Glendale, CA: Creative Communication Awards, Winner in Environmental Graphics / Functional Typography

Valencia · Valencia, CA: SoCal MAME Awards, Best Signage

Solis Park · Irvine, CA: SoCal MAME Awards, Best Signage

Rodeo 39 · Stanton, CA: IDA Awards, Silver in Environmental Graphics

Glendale Community College · Glendale, CA: IDA Awards, Bronze in Environmental Graphics
2021
Jack London Square · Oakland, CA: Creative Communication Award, Winner

Hotel Drover · Fort Worth, TX: Creative Communication Award, Honorable Mention

HHLA · Los Angeles, CA: Creative Communication Award, Honorable Mention

Arkadia · Medellin, Colombia: ICSC Global Design & Development Awards, Sustainable Commendation

HHLA · Los Angeles, CA: American Graphic Design Awards, Environmental Graphics

UCI Botanical Gardens · Irvine, CA: ASLA SoCal Merit Analysis & Planning Award

The Stockyards · Fort Worth, TX: PaperCity Design Awards Historical Restoration/Preservation, Commercial Category

Fifth and Broadway · Nashville, TN: Creative Communication Award, Best of Best
2020
2019
2018
Pacific City · Huntington Beach, CA: IDA Design Awards Wayfinding & Environmental Graphics, Silver

Montclair Place · Montclair, CA: IDA Design Awards Wayfinding & Environmental Graphics, Bronze

Lido Marina Village · Newport Beach, CA: IDA Design Awards Wayfinding & Environmental Graphics, Bronze

Del Amo Fashion Center · Torrance, CA: ICSC Gold Award

Broadway Plaza · Walnut Creek, CA: ICSC Sustainable Design Award, Gold

Tustin Legacy · Tustin, CA: AIGA Ethos Award

Long Beach Exchange · Long Beach, CA: AIGA Ethos Award

American Dream · East Rutherford, NJ: MAPIC Best Future Shopping Centre

Mesa Court Towers · Irvine, CA: Contract Magazine 39th Annual Interiors Awards, Education

Starfield Hanam · Seoul, South Korea: ICSC Asia Pacific Gold Award

Forum Cuernavaca · Cuernavaca, Mexico: ICSC Latin America & Caribbean Shopping Center Awards, New Development Silver

Terramor · Corona, CA: SoCal Awards Master Planned Community of the Year
2017
2016
2015
The Outlet Collection at Riverwalk · New Orleans, LA: ICSC United States Design and Development Award, Gold

The Fountains at Farah · El Paso, TX: ICSC United States Design and Development Award, Commendation

The Village at Meridian · Meridian, ID: ICSC United States Design and Development Award, Commendation
2014
2013
2012
Westfield Valencia · Valencia, CA: ICSC United States Design and Development Award, Gold
2011
Biltmore Park Town Square · Asheville, NC: ICSC Innovative Design and Development of a New Project, Silver

Loop 5 · Weiterstadt, Germany: ICSC European Shopping Centre Awards
2010
Promenade Temecula · Temecula, CA: ICSC United States Design and Development Award, Silver

CentralWorld · Bangkok, Thailand: ICSC Design and Development Award, Best of the Best
2009
CentralWorld · Bangkok, Thailand: ICSC Asia Shopping Center Design and Development Award

Clackamas Town Center · Portland, OR: ICSC United States Design and Development Award, Silver

The Fountains · Roseville, CA: Sign Web's International Sign Contest, Electric Sign Systems Category Award
2008
2007
City Mall San Pedro Sula · Cortes, Honduras: ICSC Global Design and Development Award
2006
Bridgeport Village · Tigard, OR: ICSC Design and Development Award

Luz del Tajo · Toledo, Spain: ICSC European Shopping Center New Developments Award

8 Avenida · São João, Portugal: ICSC European Shopping Center New Developments Award
2005
2003
2002
Stonebriar Center · Frisco, TX: ICSC Design and Development Award
2001
The Shops at Mission Viejo · Mission Viejo, CA: ICSC Design and Development Award