December 13, 2018 
Planes! Trains! Automobiles! And Shopping! And Great Food!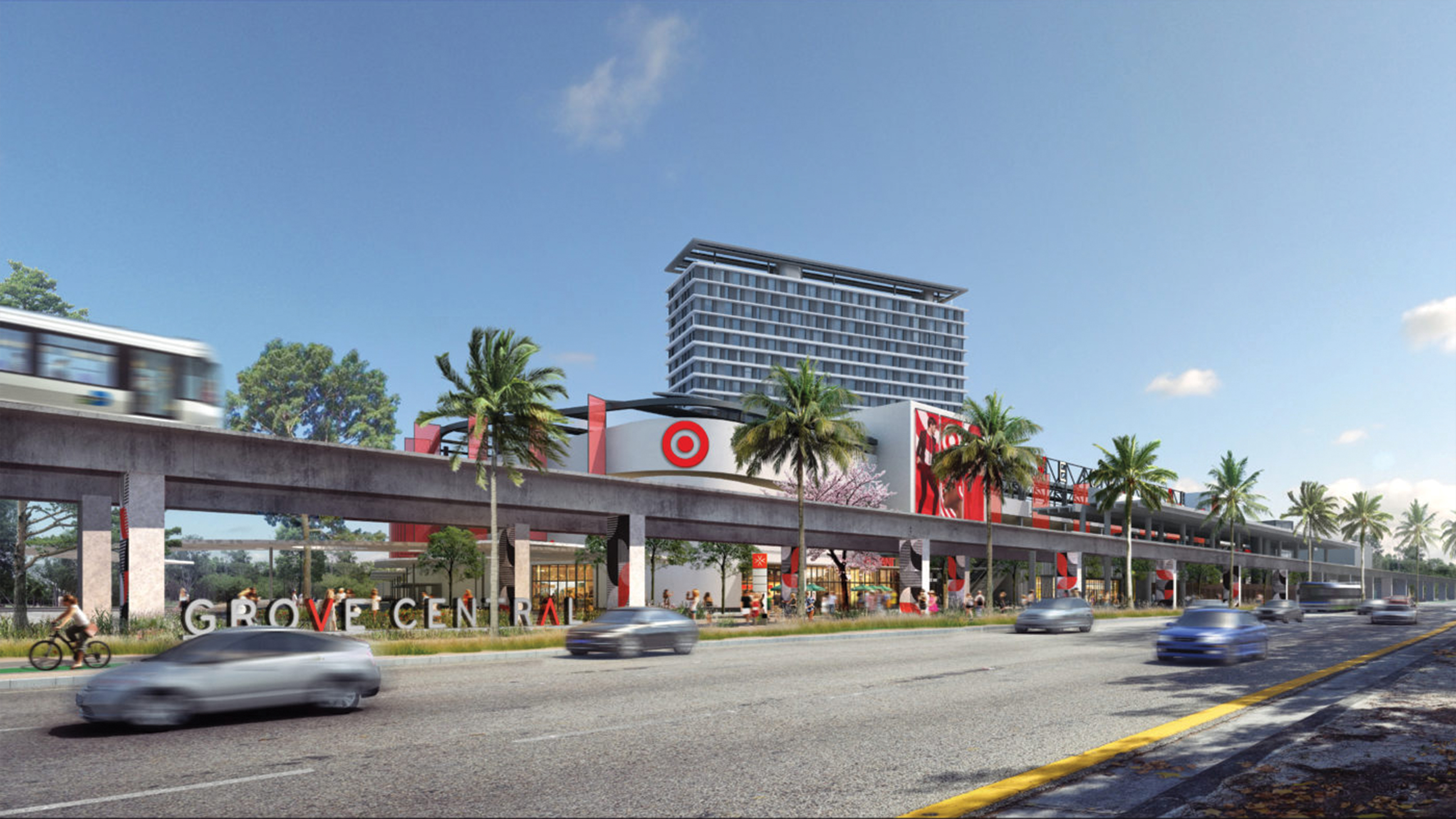 RSM DESIGN EXPLORES HOW MILLENNIALS ARE DRIVING SUCCESSFUL TRANSIT-ORIENTED
MIXED-USE DEVELOPMENTS
GLOBALLY, THE RETAIL WORLD HAS SHIFTED
The typical mall has changed and now it mirrors a complete neighborhood, and in most cases is transforming suburban or urban commercial areas into a vibrant collection of offerings.
As this shift in the environments we design take hold, we have seen the Millennial markets driving this positive evolution. Their principles, values, and lifestyle objectives are spearheading lightning speed changes in transit-oriented mixed-use developments. The demographic "hot button core values and needs" have eclipsed our commercial practice, honing in on how expectations are altering environments and how as developers and designers we respond to their economic, social and technology-infused lifestyles. In our view, the largest shift differentiator has been in mobility. The way we get around has changed, the places where we live, work and socialize are altering our recipe of what successful mixed-use environments look like and how we better position them.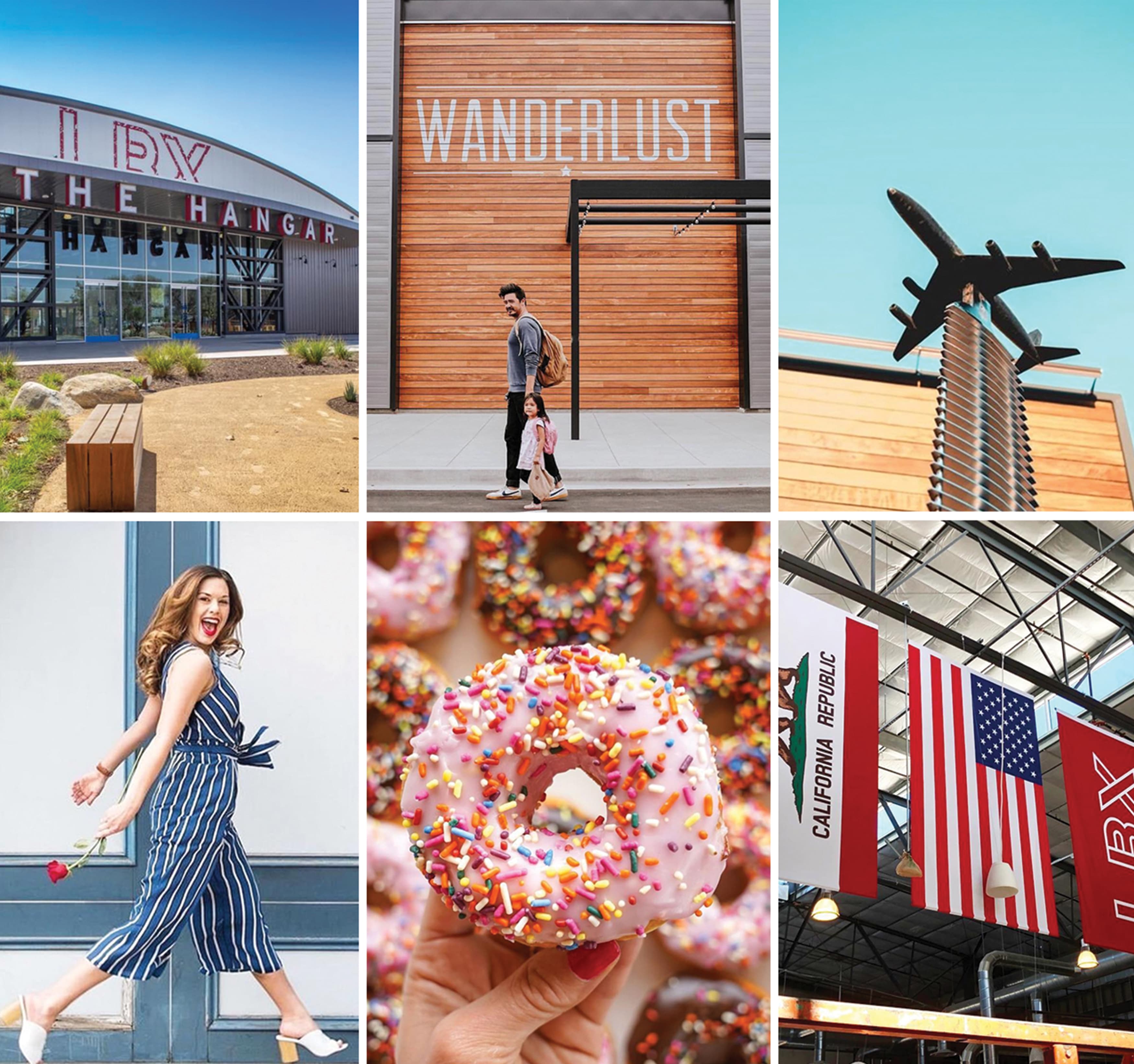 At the core of this mobility shift has been the surge of "Millennial Motivations", how to get from point A to B with more at our fingertips and more value once they get there.
As this group matures, their perspective of lifestyle, family, digital socialization and commuting connections alters how we respond as designers. We have to remember that over 40% of this generation are having families which are rapidly changing the market needs and expectations.
Within RSM Design, we are constantly searching on how to reflect the needs and soul of these communities in which we design. At the center of our practice is Connecting People to Place™, uncovering the soul of a place to create meaningful connections to the people who occupy them. We believe that life is a celebration of connections, a series of everyday socially shared experiences that benefit loyalty but also the triple-bottom line.
We have found that the root of all great experiences and memories are the journeys that bind them. These journeys are opportunities for the developer, architect or designer to connect the market to a place. They become a series of curated moments that bind each of us to one another, to a place, an idea or a common experience. Placemaking is the glue that permeates these touch points and offers tangible and when done correctly, intangible moments, memories and sensational connections to a place.
In our experience, Millennials are driving change through a vocal upwelling around what is important to them… a generation centered around shared objectives. Compelling transit-oriented developments are following these objectives as the basis of their land use, leasing, event and marketing fundamentals to create a project that speaks to a "Conscious Consumerism".
WHAT WE UNDERSTAND IS THAT THIS MARKET IS DRIVEN BY LIFESTYLE GOALS:

MULTI-MODAL LIFESTYLE
60% ARE USING MULTIPLE FORMS OF TRANSIT DURING THEIR DAILY JOURNEYS
59% ARE LIVING ON OR NEAR TRANSIT HUBS
URBAN LIVING IS A MUST
43% OF MILLENNIAL PARENTS ARE FOREGOING SUBURBAN LIVING FOR AN URBAN, CONNECTED LIVING OPTION
40% ARE LOOKING FOR FAMILY-FRIENDLY EXPERIENCES
SUSTAINABLE LIVING IS ESSENTIAL
42% ARE MAKING DECISIONS TO BETTER THE ENVIRONMENT AND SEE A REDUCTION IN THEIR CARBON FOOTPRINT AS CRITICAL
ON THE GO TECHNOLOGY ALLOWS FOR PRE-JOURNEY RETAIL/EVENT OR FOOD SCOUTING
55% ARE USING ON THE GO SEARCHING TO ENHANCE THEIR JOURNEYS TO FIND THE LATEST OFFERING

DIGITAL SOCIALISM IS AT THE HEART OF A HUMAN CONNECTION NEED
69% ARE SEARCHING TO CONNECT TO A PHYSICAL COMMUNITY
These shared objectives push developers and designers to redevelop, renovate or even reconsider properties along transit lines or hubs.
THIS NEW OFFERING IS NOT A NEW IDEA
We have seen a return to a true neighborhood commercial hub that binds live/work, transit, health & wellness, services, hyper-local retail, great restaurants, entertainment, socializing spaces and a variety of event offerings. In short, the new mixed-use core is about traditional "community engagement." A social and economic environment that is a platform for binding communities together. This successful recipe connects us on a holistic, whole-person paradigm, addressing our mental, spiritual, physical and emotional desires. This human motivation in design allows us to pinpoint key human factors during our design process. We weave this hierarchy of needs seamlessly into the design of a place. We call it "Certainty, Variety and Delight," and we concentrate on these three elements to simplify and focus our design intent for every project to create a rich, layered experience rooted in the needs of a specific community.
"We are more aware of how our actions impact the larger community. We live in an increasingly urban world where more people are choosing to live in cities and forgo the suburban lifestyle."
As Architectural Graphic Designers, we are concerned with understanding the user experience and infusing that into our design process. We have developed a clear methodology for multi-modal projects that binds the fundamental human needs with the practicalities of transit-oriented design. We know that the journey experience is a loop cycle and often begins at home, weaving continuously through pre-journey, arrival, discovery and return home scenario. These journey touch-points are design opportunities for us to tap into trip planning, clicks to bricks, social or event planning or even transit connections. This element of journey time leads us to create advanced branded marketing to on-site landmarks (meeting points), communal social spaces, artful and playful experiences and holistic architectural as "engagement" to reinforce shared community, storytelling and wayfinding systems.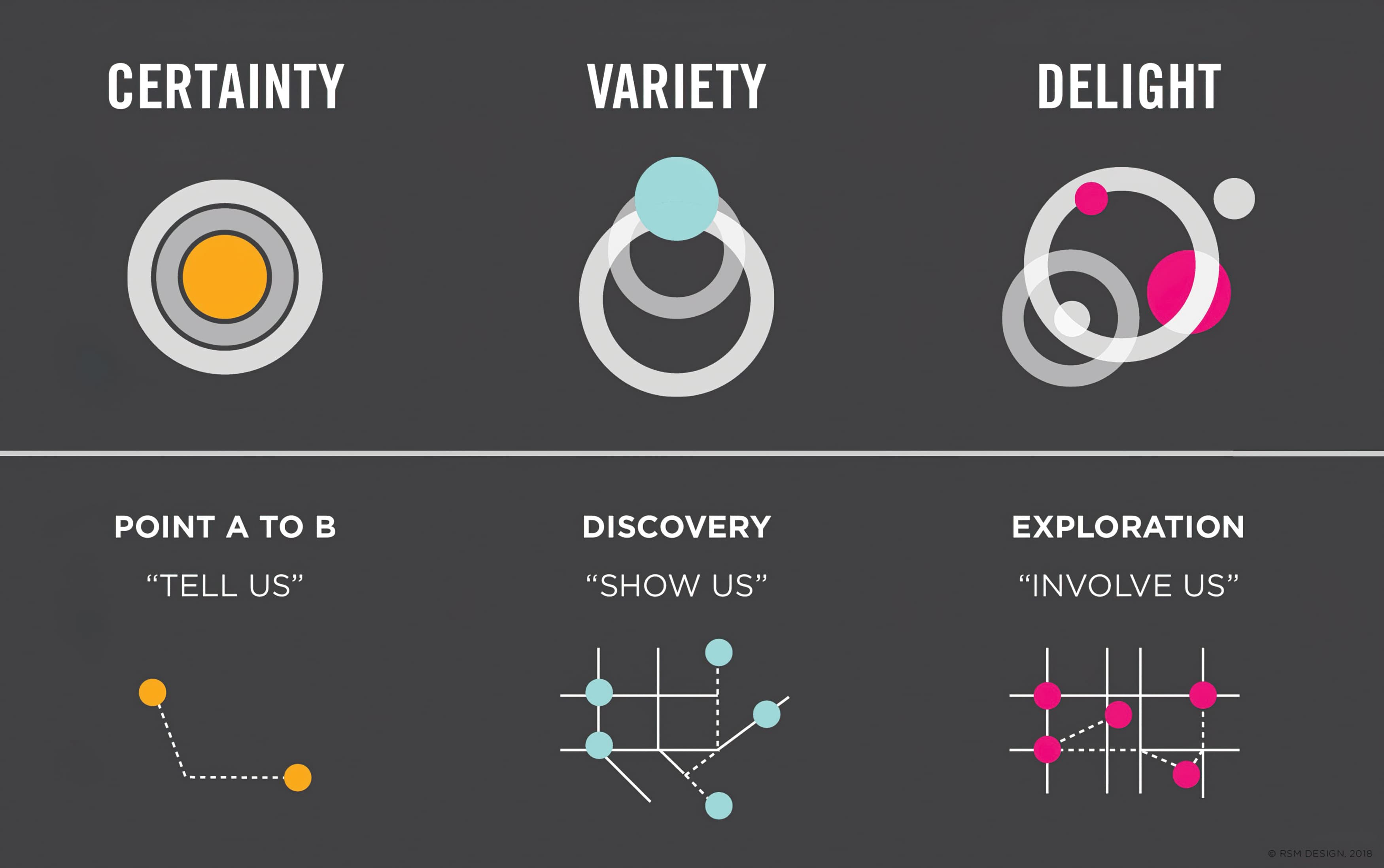 "Our generation grew up knowing all about the effects on the environment that cars can have, so we've grown up with an attitude of wanting to do our part for the earth – something that we can easily do with public transit and not with cars."
RSM Design is featuring three multi-modal projects that are at varying timelines of development. These projects are quintessentially mixed-use developments that lean on transit linkages as a core success driver.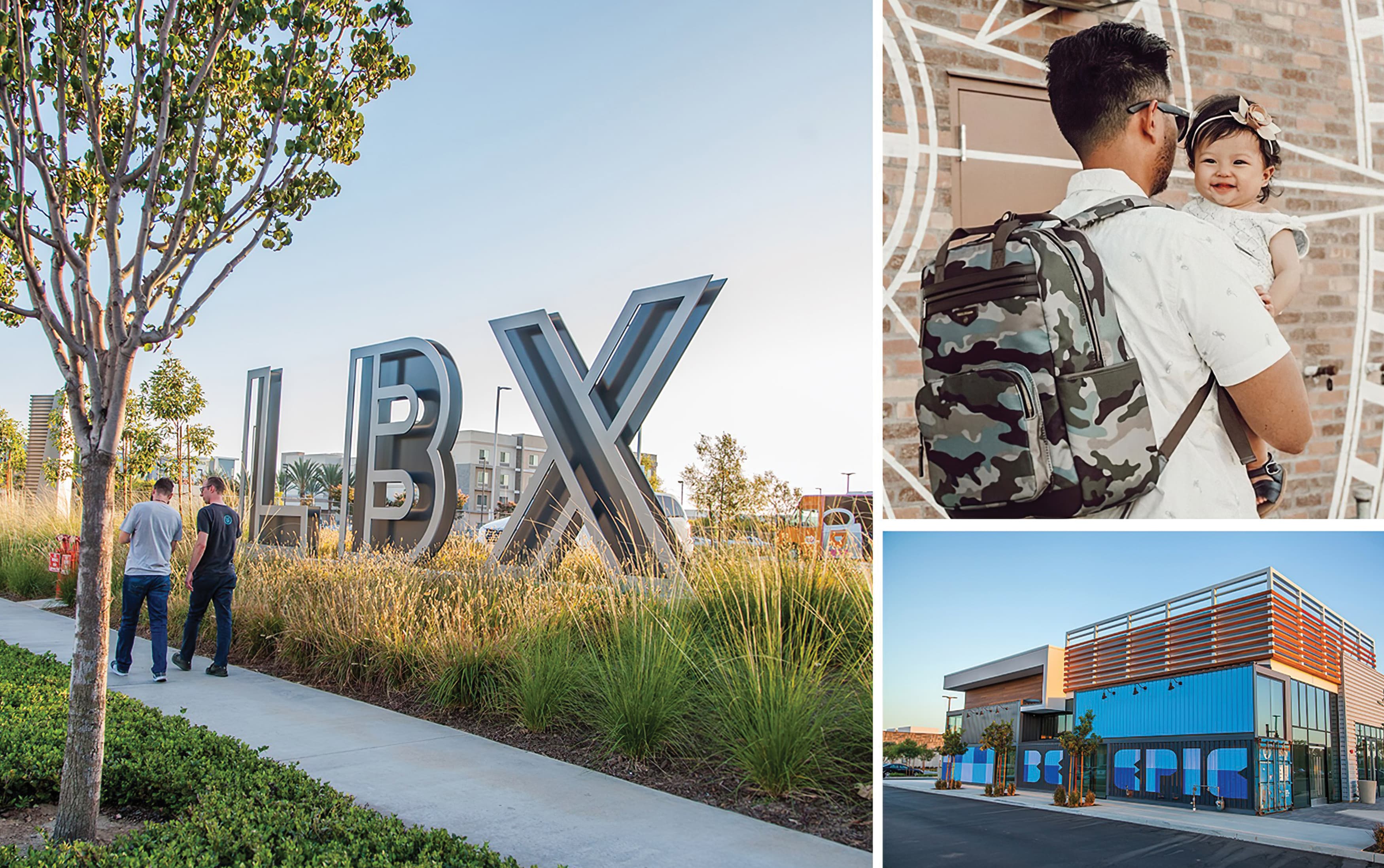 LBX: LONG BEACH EXCHANGE
Location: Long Beach, California
Client: Burnham-Ward Properties
Transit: I-405 and Long Beach Airport
Long Beach Exchange is a dynamic experiential retail and dining destination neighboring the Long Beach International Airport in Southern California. It was developed by Burnham-Ward properties and encompasses approximately 266,000 square feet of restaurant and retail space. RSM Design was asked to develop the overall project signage, wayfinding, and specialty graphics. The goals of these interventions were to enhance visibility, express brand identity, and provide unique "Instagram Moments" through placemaking and graphic interventions. The project's proximity to the airport inspired the fun and colorful air travel-inspired designs.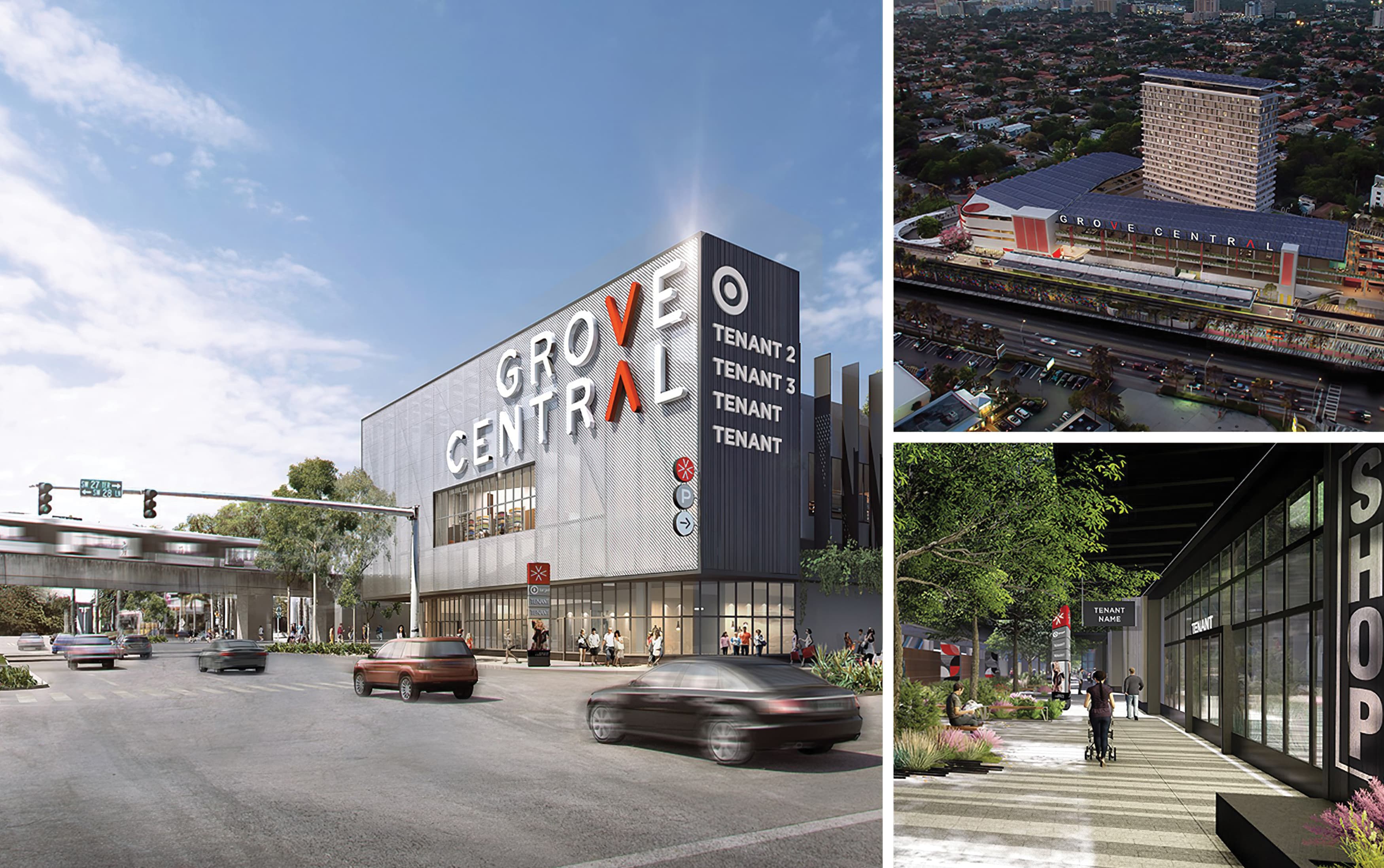 GROVE CENTRAL
Location: Miami, Coconut Grove, Florida
Client: Terra Group
Transit: Coconut Grove Metro Rail Station, South Dixie Highway and Miami Trolley and The Underline Linear Park
Located along Miami's dynamic new Underline linear park, the Grove Central project will be one of the first truly intermodal developments to embrace this new urban trail and living art destination. The mixed-use project embraces Miami's Metrorail station and incorporates bus and shared ride transfers into a dynamic assemblage of retail, hotel, and transportation. The vertically oriented project combines these uses in an efficient way to create a dense and compact development. The team at RSM Design has been engaged to bring all of these uses together through a complete branding, identity, wayfinding, and art program that touches upon all of the varied uses. The art and graphics interventions will link the Metrorail Station with the development and with the Underline linear park to create a vibrant new destination inspired by one of Miami's newest linear links.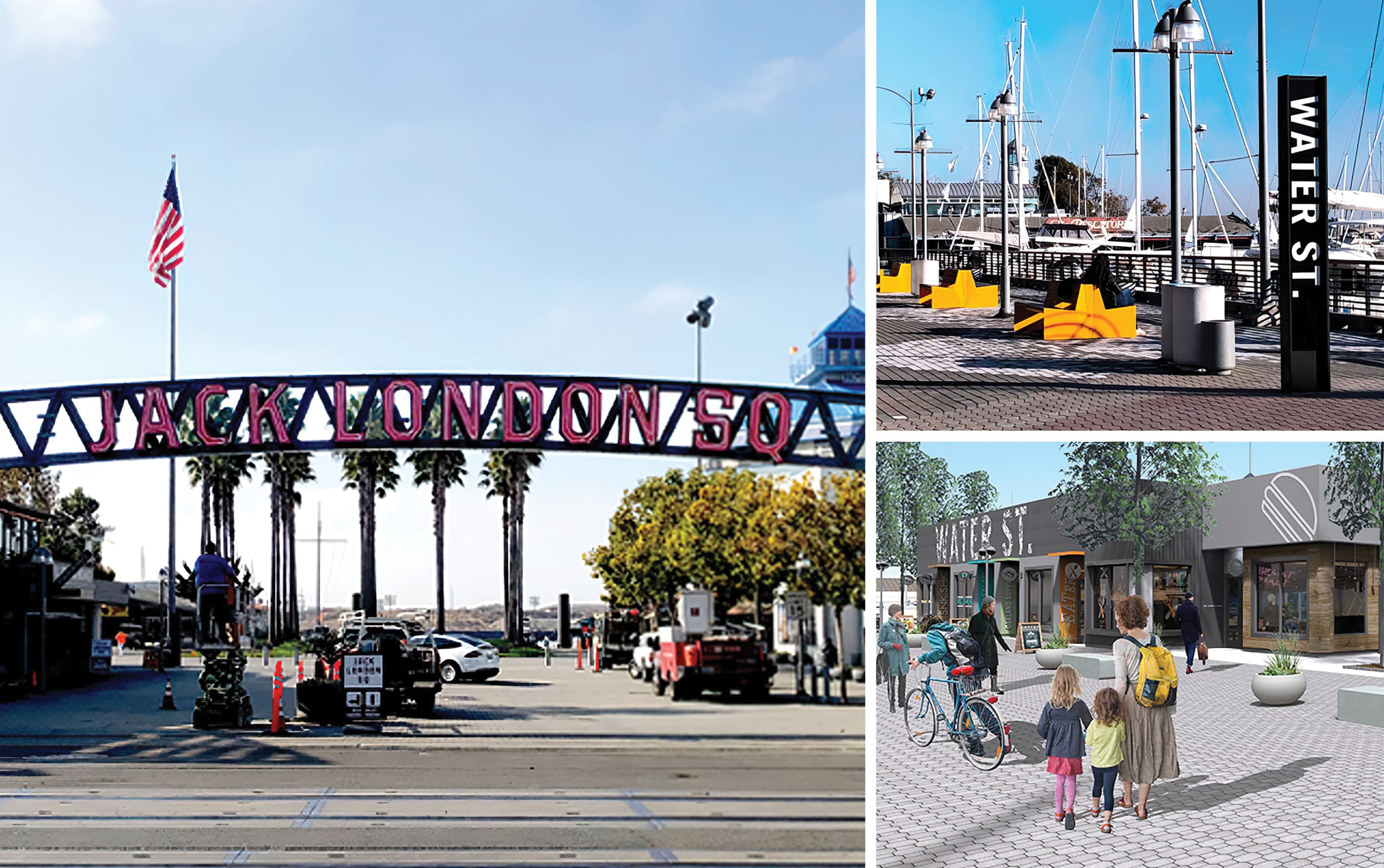 JACK LONDON SQUARE
Location: Oakland, California
Client: CIM Group
Transit: Alameda-Contra Costa Transit, Oakland/South SF & Easy Bay Ferry, Bay Trail and Local Bikeways
RSM Design is working with CIM Group to help brand and design Jack London Square, a historic district along the Oakland waterfront. Named for the writer Jack London, the neighborhood is undergoing a revival and was in need of a vision, brand, and signage and wayfinding program. Centered around Water Street, RSM Design worked to create a logo and brand, as well as a vocabulary of collateral to use throughout. A system of signage and wayfinding helps guide visitors throughout the area and helps define the area, and the also helps accurately define the boundaries and destinations within the small district. In addition, RSM Design worked on streetscape concepts to help revive the waterfront area. Together, the vision, branding, and signage helps to share the rich history of the district and is bringing in more visitors to the area.
Next Article
Loading next article…